mouse over buttons above to view product links
ENDEX PLUS

The 1st Dual Mode Apex Sensor

Capable of measuring most cases easily and difficult cases masterfully

NO LONGER AVAILABLE FOR SALE.
Call Osada at (800) 426-7232 for for spare parts and repair service.
---

---
From the pioneer of Third Generation Apex Sensor (wet canal measuring device): Osada Electric Co., Ltd.
ENDEX PLUS functions as Two Apex Locators built into one compact console, and is operated with rechargeable batteries. Canals can contain blood, pulp, tissues, sodium hypochlorite, and other fluids.
The Endodontist-tested Apex Sensor provides the newly added Auto Reset Mode (with blue lamp), allowing the user to measure most canals easily in one step. If Auto Reset is not attainable, simply switching to Manual Reset Mode (with green lamp) provides the same highly accurate and consistent readings attained using the same patented principles as used in the original ENDEX.
Extremely low 2 µA current produces no patient discomfort.
ENDEX PLUS magnifies the critical apical region of the canal (about 3 mm from the apex) and indicates what the user is sensing on an easy-to-read analog needle gauge.
ENDEX PLUS enables Endodontists to visualize the distance from the apical foramen and signals the constriction area (green zone) with an increasing pulsating alarm, changing to a continuous alarm as the file reaches the anatomical apex (red line).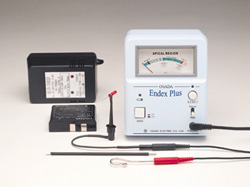 Accessories
ENDEX PLUS complete set comes with accessories: Main Probe Cord, autoclavable File-end Probe Cord, 2 Lip Clips, Rechargeable Battery Block, a new 90-min. Quick Charger and a Y-stick for touch reading (interchangeable with those of the original ENDEX).
---
2007 - Osada, Inc. All Rights Reserved

3637 Motor Ave., Suite 380 | Los Angeles, CA 90034
(800) 426-7232 | (310) 841-2220 | Fax (310) 841-2221
Website by UmeWorks, LLC