mouse over buttons above to view product links
INTRODUCING NEW ENAC OE-F15!
POWERFUL CONSOLE OPTIMAL FOR OSTEOTOMY


Piezoelectric Ultrasonic Oscillating System

Specifically Designed with Extra High Cutting Power
for Oral Surgery Procedures
---

---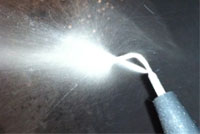 The automatically tuned OE-F15 provides energetic cutting power beyond OE-W10, yet yields Osada's signature: fine, precise cutting results.
The ergonomically designed SE15 handpiece stays cool and illuminates the surgical area. The simultaneous irrigation (with peristaltic pump) minimizes termperature increase on the attachment tips and the surgical sites.
OE-F15 POWER CONSOLE complete with peristaltic irrigation pump, irrigation tubing for the pump through the handpiece and reservoir bottle with cap assembly, hanging rod with adaptor needles, a detachable power cord and an autoclavable Handpiece Holder.
SE15 LED illuminated autoclavable HANDPIECE;
A Detachable autoclavable HANDPIECE HOSE ASSEMBLY with quick-disconnect handpiece coupler and connector;
A Detachable Waterproof FOOTSWITCH with cable & connector
Compatible with all Osada ENAC Piezo-powered ultrasonic scalpels surgical tips.
OE-F15 SPECIFICATIONS

DESCRIPTIONS
SPECIFICATIONS
REMARKS
WEIGHT
Name
Osada Enac OE-F15
PiezoElectric Ultrasonic System
Certification
223ALBZX00031000
Protection Code (electroshock)
Class I - BF
JIS T0601-01
Power Supply
120V - 50/60 Hz
Fuse 1.0 A
Cutting Method
PiezoElectric
Ultrasonic Oscillation
Working Frequency
30 kHz ± 2 kHz
Power Setting
1 through 15 (15 stages)
7 - 15 for Bone Cutting
Water Supply Rate
10-80 mL/min (10 stages)
Cooling Handpiece, tips and sites
with Hanging Rod / Bottle
Peristaltic Pump
by Reservoir Bottle or Bag
LED on SE15 Handpiece
1500 ± 500 Lx
Light Emitting Diode
Power Console
OE-F15 (dimensions)
216(w) x 269 (d) x 474 (h) mm
3.1 kg
Handpiece
SE15 Black
φ19 x 110 mm
50 g
Handpiece Hose
Detachable / autoclavable
1.9 m
88 g
Power Cord
Detachable
1.9 m
230 g
Foot Switch
Detachable Water Proof
Cord Length 2.6 m
1.1kg
water bottle
56g
Attachment Tips
ST70 through ST108
for Bone Cutting
---
2007 - Osada, Inc. All Rights Reserved

3637 Motor Ave., Suite 380 | Los Angeles, CA 90034
(800) 426-7232 | (310) 841-2220 | Fax (310) 841-2221
Website by UmeWorks, LLC