Built with power to spare
- Settings 1 through 12 - extra high power at 11 and 12
- Piezoelectric Ultrasonic System of 30 kHz
- Automatically tuned regardless of power setting or attached tips
Endodontic filing and shaping of the canal
- Filing with U-file and simultaneous irrigation right at the tip
- Shaping of the canal with DFS (straight) and DFC (angled) Diamond Coated Files chucked in Osada's unique combination tips such as ST17/QEH or ST12A/QEH
- Also combinations of Pluggers (#15 through #40) with ST12A/QEH Endo Tip and SCP Series with ST17/QEH
Removal of Restorations
- Use ST09 Vibration Tip with blunt end to effectively loosen cement, silver point, post and other restorations
Periodontic Procedures
- Cleaning and scaling of gum line and periodontal pockets with ST23 (irrigation opening at the tip end) or ST25 (in 3 sizes) with irrigation hole at side of the tip end.

Variety of Scaling Tips
- ST08 Universal Scaling Tip
- ST07
- ST13
- ST14
- ST15
- and more...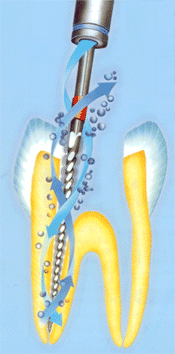 Endodontic Obturation
*Melt gutta percha to fill the canal without water or to remove gutta percha from the canal with ST21 tip, etc.
Apicoectomy (Root End Surgery)
- ST38 (set of 3) Special Apicoectomy Tips
- Optional DF (X, Y, Z, ZZ) Double Angled Diamond Coated Files attached to ST17 Straight Endo Tip and QEH Quick Endo Holder
Efficient Removal of Broken Fragment Trapped in the Canal
- SCP4 Series (set of 3) chucked in ST17/QEH
- Straight Nose Tips ST21 (long) or ST21B (short)
- many combinations of Endo Holders and attachments of your choice
Atraumatic Surgical Procedures
Piezo Powered Ultrasonic Scalpels work like magic!
Basic Set of 6 surgical tips designed by Dr. Golz:


ST70, ST71, ST72, ST73, ST74 & ST75

Newly added surgical tips:


ST70Z, ST82, ST83, ST83S, ST84, ST84S, & ST85